Back
Fences
Close with Quality – This is the solution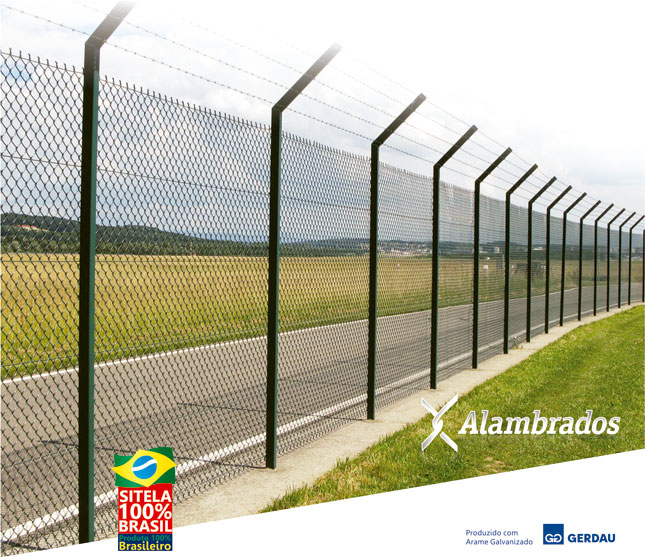 The line Fences of Sitela offers solutions in territorial enclosing, residential, industrial and others. When thinking about enclosing with fences it is necessary to opt by a company that knows the product. This is our specialty: isolate with quality your country house, plot, house or company.
Mesh
Composed by galvanized wire with zinc layer of 60 to 80 microns with possibility of manufacturing in several wires, meshes and heights. It can be only galvanized or galvanized with PVC layer 100% pure, applied over the wire by extrusion process, with or without addition of adherence polymers.
Ready-made foundation beams
Concrete EPS Fck 150kg with internal hardware.
Tubular Fences Tubular Fences manufactured with tube in steel 1010/20, it can be only painted over natural steel or galvanized plus painting with prime background or electrostatic:
• Tubes for pre-backing of mesh with heights superior to 4.00m, in wall of 2,00m, with Ø 2" (50,8mm).
• Tubes for the mesh backing with heights until 4,00m in wall of 1,50mm, with Ø 2" (50,80mm).
• Walers and ledger in tube with wall of 1,50m, with Ø 1" ½ (38mm).
Advantages - Manufacturing of meshes personally measured;
- Large variation of meshes;
- Heights according to the customer's needs;
- Several colors in covering PVC (check);
- Technical support for installation;
- Development of special projects.
Obs: Coverings in PVC in standard colors green, blue and gray. Other colors under consultation, they can have polymer between adherence layers
Obs: The fixation of the tubes can be leaded in soil with concrete or with sheet, bushing and screws