Back
Screen Tapumix
The protection that sells your brand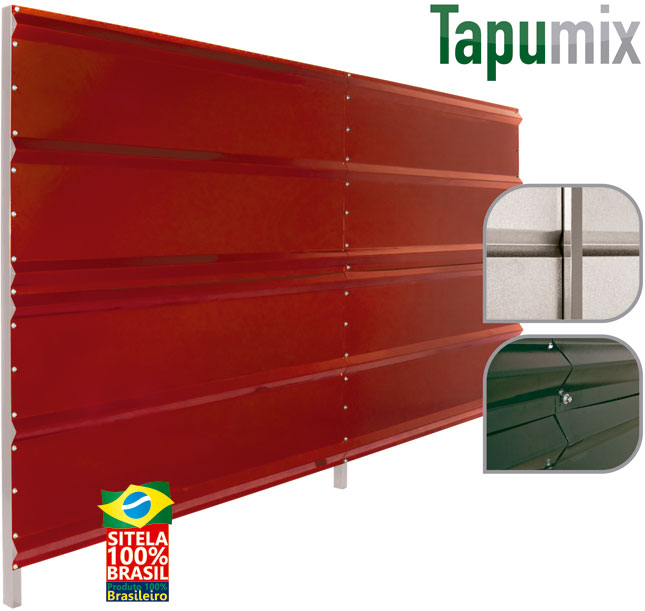 Screen Tapumix is an exclusive product by Sitela and was developed to provide the best cost x benefit for your enterprise. It is easy to install, and elaborated with resistant material and it is of great durability, which allows its reuse in several sites. The screen by Siela can be painted in any color and have your company logo printed on it, providing personalization and a great appearance to your construction.
- Technical support for the installation;
- Availability for painting in any color (by consultation);
- Product and raw material quality guarantee certificates;
- Positions in modules that facilitate the transportation and installation.
Advantages
- Exclusive product by Sitela;
- Excellent cost x benefit;
- Personalized painting or printing with the customer visual identity;
- Great durability;
- 100% removable and reusable;
- Easy to install;
- Development of customized projects;
Sheet
Steel sheet in carbon 1010/20 galvanized with covering type "B", thickness of 0,50mm and zinc layer with 60 to 80 microns. With measurement of 2,0 x 1,00mh or 2,0 x 1,20mh, can be only galvanized, galvanized and painted on one face, with electrostatic painting, or totally covered by adhesive.
Tube Glove
Tube formatted in galvanized sheet gutter type, measuring 62 x 42mm. With 50cm length, it is leaded in the soil and, after, it serves as engagement for the fixation tube of the screen, which can be totally removable, without causing damage to its structure.
Composition of a Module
2 fixation tubes
1 tube glove of bolts
2 sheets of steel
15 tapping screws
Fixation Tube
Tube in Carbon Steel 1010/20 with covering type "B", thickness of 1,55mm and zinc layer with 60 to 80 microns. With measurement of 2,50m, it can be galvanized or galvanized and painted with polyester electrostatic painting.